Only item for sale is the Lexington Mathfest paper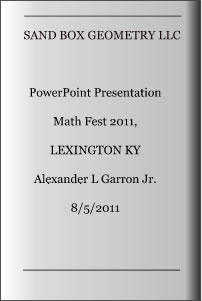 MAIL ORDER ONLY:
Sand Box Geometry
2505 Park Place
Springfield, New Jersey 07081
EXPECT 4 TO 6 WEEKS FOR ORDERS TO BE PROCESSED
My methods of publishing, printing, and delivery are still being developed. I am in favor of a soft cover product, 3 color printed and finished book. All my published books are under 60 pages. Shipping will be with United States Postal Service. Any questions or suggestions can be directed to my web email or webmaster.